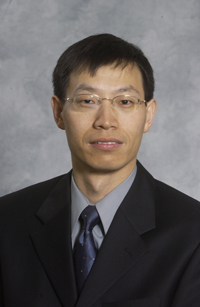 Huaijun Zhou, Ph.D., Director/Principal Investigator – Dr. Zhou with assistance from Dr. Terra Kelly (Deputy Director) is responsible for activity coordination, planning, work-plan development, program reporting, overall program monitoring and evaluation, and coordination and representation of the program with USAID and other stakeholders. The Program Director, working closely with the Partner Coordinators (listed below), will be responsible for ensuring good practices with regard to gender issues and ensuring the proper environmental practices are followed at the four universities where experiments will be conducted. As a Principal Investigator and UC Davis Coordinator, Dr. Zhou is also responsible for overseeing the overall program research, experimental design and technical aspects of genomics application and data analysis. He will also coordinate all of challenge work at UCD including experiment design, phenotype measurement, high-density SNP genotyping, RNA-Seq analysis. Dr. Zhou is Professor, Chancellor's Fellow, Department of Animal Science, University of California, Davis. He has been trained in Immunogenetics, Functional Genomics, and Bioinformatics and Computational Biology. Dr. Zhou has been working on avian breeding and genetics for past 25 years, especially in genetic disease resistance to bacterial (Campylobacter and Salmonella) and virus (Newcastle disease and avian influenza virus) infection in chickens. His research program has been funded by USDA, NIH, USAID, and world-leading poultry breeding industry in studying genetic resistance to bacterial and virus infection in the chicken using the cutting-edge genomics technologies. Dr. Zhou is a recognized expert nationally and internationally in the field of avian immunogenetics and functional genomics with many invited talks at international conferences and universities. He has won several prestigious awards including Evonik Degussa Award for Achievement in Poultry Science, Hy-Line International Research Award, Poultry Science Association Early Achievement Award in Research, and Outstanding Oversea Scholar from China National Science Foundation. Dr. Zhou has published more than 87 peer-reviewed papers and booked chapters in avian genetics and disease resistance.  
---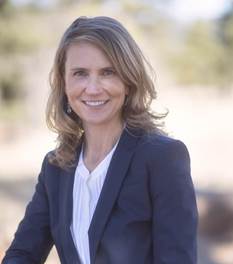 Terra Kelly, DVM, Ph.D., Dipl. ACZM, Deputy Director – Dr. Kelly works with the Director to implement research, capacity enhancing, and outreach activities for the program.  In addition, she oversees research aimed at developing a model to distribute chickens with enhanced disease resistance to smallholder producers in Africa. Dr. Kelly is a veterinarian and epidemiologist at the One Health Institute in the University of California, Davis School of Veterinary Medicine. Her research focuses on diverse health issues affecting animals and people and their shared environment in the U.S. and abroad. She has managed a number of multidisciplinary projects involving government, academic, and private organizations in the U.S., Asia, and Africa. Dr. Kelly is active in international research and capacity-enhancing programs designed to improve our understanding of disease dynamics at the animal-human-environmental interface and developing strategies for minimizing disease risk with the goal of improving animal and human health and food security. She currently leads activities for the USAID Emerging Pandemic Threats Program PREDICT 2 project in Ghana and contributes to the project's surveillance and capacity building efforts. Dr. Kelly was also the lead on a USAID Feed the Future Innovation Lab for Collaborative Research on Adapting Livestock Systems to Climate Change project in Nepal, which was developed to identify risk factors for zoonotic disease transmission among smallholder buffalo farmers. Additionally, she has assisted with the establishment of a health monitoring program for chimpanzees in Uganda where she conducted trainings for a network of regional wildlife professionals. Dr. Kelly has also worked in collaboration with state and federal agencies on a variety of projects including research to enhance wildlife disease surveillance and to investigate the epidemiology of influenza A viruses in wild birds in California.
---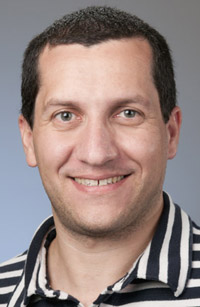 Rodrigo Gallardo, DVM, Ph.D., ACPV – Dr. Gallardo is responsible for the NDV replication, titration, preparation, and use. Tear and blood collection techniques, procedures, and processing of these samples using ELISA and qRT-PCR techniques. Dr. Rodrigo Gallardo is an Assistant Professor in Avian Medicine, University of California, Davis. He is a poultry veterinarian with experience in poultry production, feeding, management, medicine, and diseases. He has a DVM degree from the University of Chile and a PhD from Auburn University in avian molecular virology. He is also board certified by the American College of Poultry Veterinarians (ACPV). He worked for several years in a layer breeder facility (representing HyLine international) in charge of breeding, laying, feed mill and hatchery. He has worked with Newcastle Disease Virus (NDV) closely as an assistant veterinarian in Horizonte and Centrovet diagnostic laboratories (in Chile) using serological and virological methods for the detection of viral diseases affecting the Chilean poultry industry including NDV surveillance. He has also been involved in manufacturing NDV biological products both live and inactivated. Those products were commercialized in the Chilean market with great success. In terms of research, he has worked on characterizing the immune response of ostriches against NDV-inactivated vaccines. He has worked since he enrolled in the PhD program at Auburn University in 2008 in RNA viruses. He is highly qualified in working with RNA viral poultry pathogens not only using the conventional virological and serological techniques but also using molecular biology. He has investigated very virulent infectious Bursal Disease virus immunology and immunosuppression, and its effect on the immune response against endemic Infectious Bronchitis Virus strains in California. He is also currently investigating the effect of diatoms as adjuvants for vaccines in commercial poultry. His research interests are immunosuppressive and respiratory diseases and their interaction in poultry.
_______________________________________________________________________________________
Nadira Chouicha, Ph.D., Program Coordinator / Specialist – Dr. Chouicha is the primary point of contact for the coordination of the Genomics to Improve Poultry Innovation Lab. She is responsible for overseeing the overall program activities and for the day-to-day operation of the management entity and conducts outreach to communicate research findings and program development. Dr. Chouicha is a Specialist at the Department of Animal Science, University of California, Davis, she is originally from Algeria where she studied Microbiology, she has strong international experience working in infectious disease research in Africa, Europe, and USA. She received her Ph.D. in parasitology at the Faculty of Medicine, Montpellier I, France. She has 15 years of experience working at the School of Veterinary Medicine at University of California, Davis in research programs that deal with infectious diseases and genetics. She has supervised many infectious disease projects relevant to human-animal-environments. She has expertise in basic and translational research involving data analysis, and optimization assays in molecular biology, including gene expression profiles. While at the UC Davis School of Veterinary Medicine, her interests have been directed to infectious diseases, including strategizing, developing, and optimizing the best diagnosis methodologies. She also investigated the variability in metabolic pathways due to corticosteroids administration in equines. Dr. Chouicha has also been actively involved in infectious disease surveillance and prevention to reduce risk factors of zoonotic diseases in California.