The Research Team and Advisory Committee launched the Feed the Future Innovation Lab for Genomics to Improve Poultry in January 2014 at meetings at Sokoine University of Agriculture (SUA), Tanzania. Team members from UC Davis (UCD), Iowa State University (ISU), the University of Ghana (UOG) and SUA reviewed and finalized research plans. The Research Advisory Committee joined the research team to evaluate the research plans and discuss technical issues and program implementation protocols.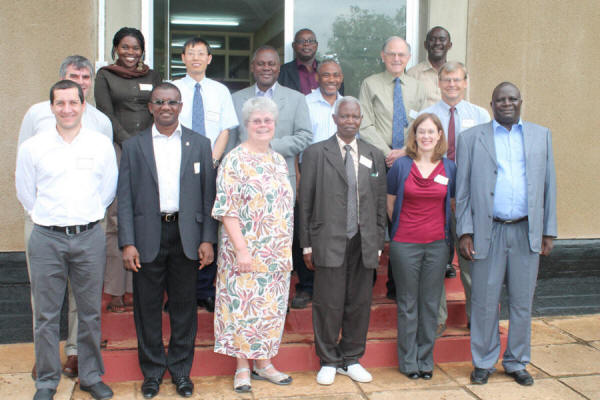 Research Team meeting at Sokoine University of Agriculture, from left to right, first row: Rodrigo Gallardo, Boniface Kayang, Sue Lamont, Philip Nyaga, Lindsay Parish (USAID), SUA Vice Chancellor; second row: Jack Dekkers, Sheila Ommeh (Kenyatta University collaborator), Huaijun Zhou, George Aning, Peter Msoffe, Jim Hill, David Bunn; third row: Augustine Naazie, Amandus Muhairwa.
Following the research program meetings, Team Members from UCD and the ISU met with SUA and UOG partners to develop training plans and review facility preparations of research poultry facilities.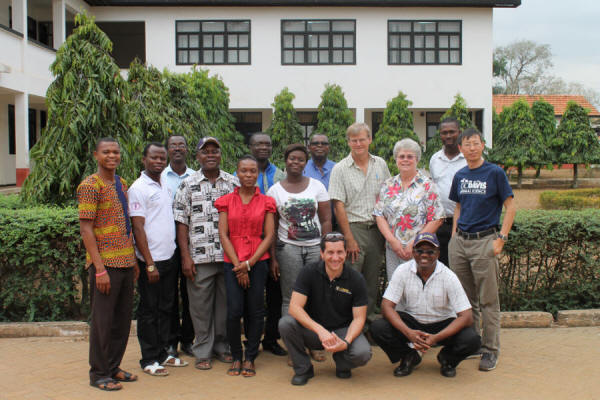 Research Team meeting at the University of Ghana. Standing, from left to right: Thomas K. Tinga, Mustapha A. Ahmed, Jonathan Quaye, Kwame George Aning, Princess Botchway, Kelly Afrifah, Diana Fiadzomor, Augustine Naazie, David Bunn, Sue Lamont, Christopher Tudeka, Huaijun Zhou. Kneeling, from left right: Rodrigo Gallardo, Boniface Kayang